When most people think of renting a storage unit, they imagine driving to the storage facility, speaking with the manager, sitting down and filling out paper work, being sure to get there before they close. Sounds like a pain, right? We think so too.
If you're moving, or just need to make some space in that cluttered garage, taking valuable time out of your day to rent storage can be a huge inconvenience. Not at Kent County Self Storage. We've developed a system for renting storage online that is designed to make YOUR busy life a lot easier.
Gone are the days of jumping through hoops to rent storage, filling out paperwork, mailing or personally delivering your payment, and making sure trips to your storage unit fall within business hours. 
Our online rental process only takes a few minutes, with immediate access to your rental. Rent and access your storage unit instantly. No waiting in line, no paperwork, no trips to an office, all while working it into your schedule. 
If you are still confused about how it's possible to make renting storage that easy, we've outlines the steps so you know exactly how this process works and what to expect.
1. Go to http://www.kentcountyselfstorage.com and choose the storage unit size that best fits your needs.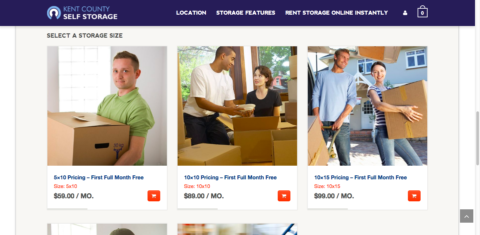 If you're unsure of that size you need, click here.
2. Once you've chosen the correct size and clicked the "add to cart" button, we will ask you to fill out some basic information. Simply fill out the required information and click "rent now."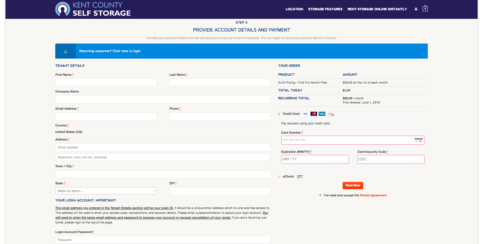 3. After you click "Rent Now" button to submit your rental, go to your email inbox and there will be an email waiting for you. This email will include your gate code, unit number, payment information and a copy of the rental agreement. It is very important that you save the information in the email and keep it somewhere you can easily access it.
4. Bring your gate code with you to the facility, punch in the 5 digit code and head to your unit. 
It really is that simple!
If you still have questions, you can call 616-559-0011 or email customerservice@kentcountyselfstorage.com.